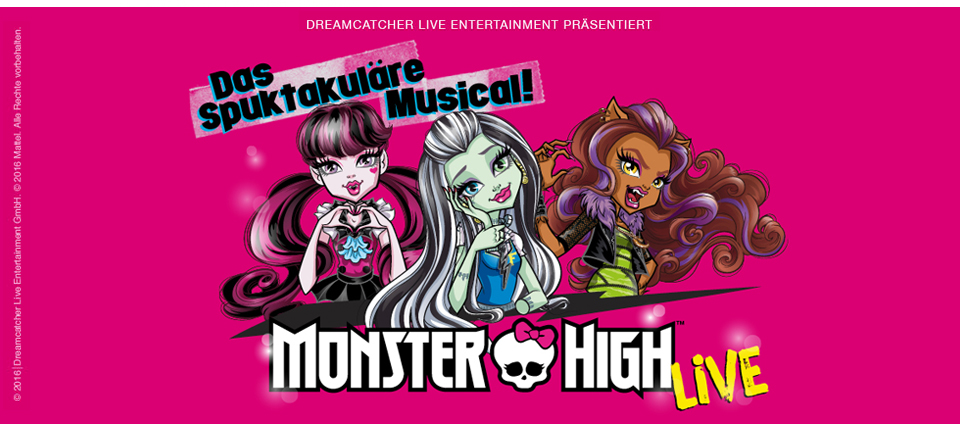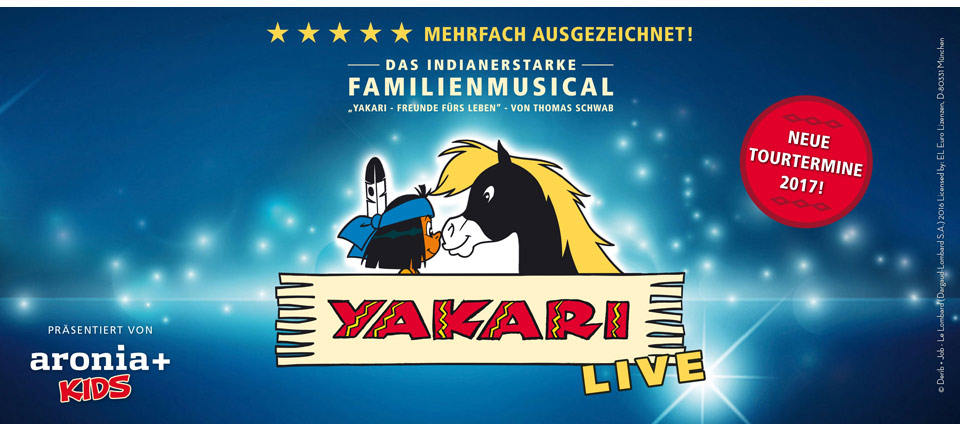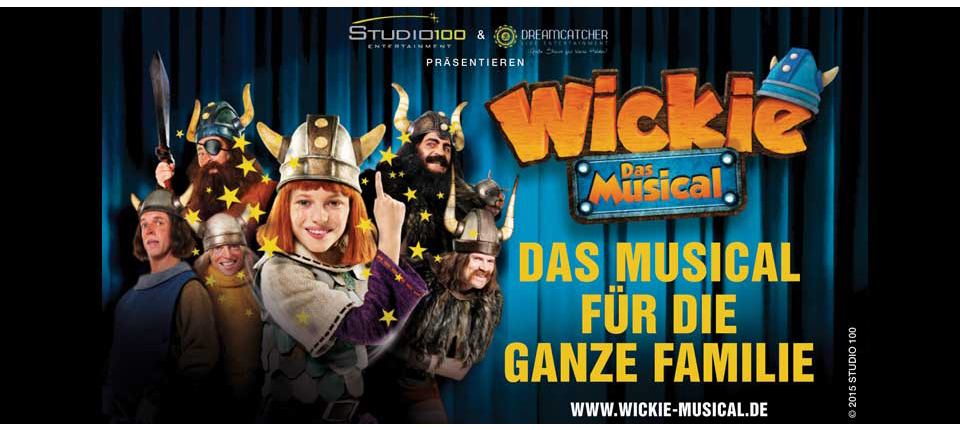 MONSTER HIGH LIVE
The spooktacular Musical
We brought the entire and spooktacular Monster High with all its ghouls to life on the musical stage. The interactive and high-quality show fascinates more than 30.000 visitors. A monster-filled show with magical effects, expressive songs combined with fancy outfits, colorful hairstyles and masks. Combining the technology of video animation and 3D-Mapping to facilitate a extremely versatile set and environment for creating dynamic effects between video, actors and illusions. This unforgettable experience will keep the audience on the edge of their seats and will bring Monster High to life. Girls are empowered to follow their dreams and find out who they are and what they want to become! The show encourages girls to be strong, express themselves and let their individuality shine. Be yourself! Be unique! Be a monster!
YAKARI - Freunde fürs Leben
More than 200.000 visitors!
T

here is

no stopping

in the audience when

Yakari

,

Little Thunder

, Rainbow and

Lindenbaum

enter the stage

.

More than 200,000

enthusiastic

fans

visited the successful musical "

Yakari - Freunde fürs Leben"

in

the

sold-out

halls

and theaters

to enjoy the

exciting

adventures of the young

Sioux Native American and his

friends. The

musical,

composed by

Thomas

Schwab

and produced by

Dreamc

atcher

Live

Entertainment continues in March 2017 with new tour dates in Germany, Austria and Switzerland.

2 SOLD OUT AWARDS FOR YAKARI
The figures speak for themselves: With our very successful musical production YAKARI we played around 80 shows and registered more than 120,000 visitors in 2013 and 2014. We are the first German company that received two Sold Out Awards for a family show with 6,500 visitors in the Cologne LANXESS arena and 4,500 visitors in the Hamburg O2 World.
WICKIE - The Musical
Fans and families can look forward to a real highlight: The musical about Wickie, the famous Viking boy with always surprising and clever solutions captured the big stages. He is neither big nor particularly strong but he acts on his instincts and dazzling ideas rather than muscle power to save the day over and over again, proving that cleverness is stronger than physical strength. Vic, the Viking is more than a hero for children, he is a throughout positively engaged trademark. Vic exemplifies timeless inner values across different ages and multiple generations.
CHRISTMAS MOMENTS
Beautiful and breathtaking!
Grandiose voices and a fantastic live band. Since its premiere in 1998, Germany's most popular Christmas show has already enjoyed more than half a million people. Visitors can expect a unique blend of English and German songs: traditional carols, musical, classical and gospel. Christmas Moments is a perfect musically experience getting in the mood for Christmas.